Golden and crispy outside, tender and juicy inside. Andouille stuffed boneless chicken with Cajun cream sauce is impressive and delicious! Choose your spice level and opt for the stuffed chicken thigh version if that's more your style. Either way, your taste buds will be thanking you!
A few posts back I wrote about our weekly big family dinners. Well, this summer has brought some changes to those dinners …they've gotten smaller. And a little less frequent. And in all honesty it threw me off for a bit.
Just as summer was beginning, my youngest daughter, Jillian, and her boyfriend moved. With freshly earned college degrees tucked into the boxes holding all of their belongings, they made the five hour drive to their new home in the town where he'd grown up. Not long after settling in, he proposed! We're so excited for their future (and thrilled to welcome him to the family), but we're also missing their weekly presence at our table.
A few weeks later my oldest daughter, Hannah, and her family found a beautiful farm just over an hour away. With more room for raising animals and growing vegetables and doing all of the things she feels so naturally drawn to, it was an opportunity they couldn't pass up. So off they went. I know an hour really isn't that far, but it felt a world away from the 15 minute drive I'd become accustomed to.
Watching our adult children's lives unfold in ways that light them up and feed their souls is a beautiful thing. And as happy and excited as we are for them and their new adventures?
It can also feel like a lot of letting go.
So last week I was thrilled when Hannah and Jillian told me they were BOTH able to join us for dinner!
I think all of the stars were aligned because Hannah's husband and both of our boys had the night off, too. I can't even express how excited I was to be cooking for 9 on a Thursday night again!
I'd been thinking about a new version of my stuffed whole boneless chicken, this time with a Cajun kick and a stuffing that included andouille sausage. I also wanted to try a more casual assembly and cooking method that would mean more time to catch up with my daughters and hug my grandkids 🙂
Our dinner was the perfect opportunity to try it out and it did not disappoint! I think you're going to love it, too!
Why Debone A Whole Chicken?
I first wrote about my love for whole boneless chicken in this post for Deboned Whole Stuffed Chicken with Prosciutto, Spinach, Mushrooms Gruyere. I suggest clicking over to that post if it's unfamiliar to you because it explains:
All the benefits of a boneless bird (flavor, something for white and dark meat lovers, even cooking, easier carving, and the thrill of a good challenge)
What to do with the bones
Where to find step by step videos to walk you through the process of deboning a chicken and tying a roast
If you've never done it, deboning a whole chicken probably sounds a little intimidating. I get it. However, if you're up for a little challenge and want to learn a new kitchen skill? I totally encourage you to go for it!
Plus, when you serve it? It looks really cool 🙂
Do You Have To Do It Yourself?
Nope! There is no shame in having the butcher do it for you! One of my favorite markets, Keller Meats at The Exchange Market, often carries boneless chickens in the case during the summer. They call them "grillers" and if you live in the Medina, Ohio area, I encourage you to give them a visit!
Check out your local butcher if you don't live near Kellers. And if you shop at a grocery store with a good meat department they can do it for you, too. No matter the route you go, I do suggest calling ahead as a courtesy to the butcher and as insurance for you.
And maybe get a couple while you're there, so you have one in the freezer for next time 🙂
Whole, boneless chicken not your thing? I got you!
Maybe you're thinking that even though this sounds really delicious (it is!)…procuring a boneless chicken and rolling and tying it up just isn't your thing? Well, don't worry, you don't have to miss out! I've also included a modification using chicken thighs instead.
All deliciousness is intact 🙂 in about half the time
What Do You Need?
For the chicken and stuffing:
Either a whole boneless chicken or bone-in chicken thighs
Sourdough Bread Crumbs
Onion, Garlic & Celery
Fresh Andouille Sausage
Butter
Chicken Broth
Fresh Parsley & Salt
Diced Tomatoes
Cajun Seasoning
Once you've gathered your ingredients you'll make the stuffing and let it cool. Next, spread it evenly over the chicken leaving a border around the edges. Sprinkle diced tomatoes over the stuffing and you're ready to roll!
How To Stuff and Cook A Boneless Whole Chicken
The first time I posted a whole stuffed chicken it was a little more labor intensive than this version. I was going for a neater, tighter roulade. And I used a two step cooking process, searing first and then finishing in the oven. It resulted in a longer prep time but a shorter total cook time.
A Simpler Way To Assemble
This version calls for a more relaxed preparation, with a slightly lazier "roll" and a single step cooking method.
The picture on the right is the way I've been rolling stuffed chickens until now. You start at one end and roll tightly so the stuffing is spiraled inside when sliced. It makes for a more formal presentation if that's what you're going for.
The one on the left is what I'm calling a "lazier" roll. It's less formal but just as delicious! Once the stuffing is spread over your chicken, instead of rolling it up tightly from one side to the other, you'll fold each side towards the center so that they touch. I've discovered that wrapping tightly in plastic wrap at this point and giving a little chill in the fridge for an hour or so makes it much easier to tie. The time in the fridge solidifies the stuffing enough that it holds together nicely while you're tying the string. Here's a great video on how to tie a roast. Remember, the goal is to keep the stuffing inside the chicken, it doesn't have to look perfect!
Choose Your Spice Level
Once you've stuffed and tied your chicken you're going to want to rub the outside all over with some olive oil and season to taste. The Cajun rub not only provides wonderful flavor, it gives the final dish a beautiful golden color. But all Cajun seasoning blends are not the same! Some are hot, some are mild. Some are salty enough on their own, some require a little help from you. Jiilian gave me this Cajun spice blend from Taylor's market near where she lives and I have been putting it on everything…it's SO good! Taste your blend and use your judgement. I made one chicken less spicy than the other to please everyone.
NOTE: I cut the wings off of the chicken before stuffing it. KEEP THEM, season them and roast along side the stuffed bird!
I like to line my pans with parchment or foil for easy clean up. It's optional.
Time To Roast!
Make sure your oven has had enough time to properly preheat to 375°f. Drizzle a little olive oil in the bottom of a roaster, place the chickens inside with the seem side facing up. Cover the pan with foil.
Usually I let my chicken sit at room temp for a bit before putting in the oven but I did this one straight from the fridge. It's summer and it was a hot, humid day so I felt better not letting it sit on the counter. If your chicken isn't super cold when you put it in the oven it might be done a little sooner. This is why using a meat thermometer is such a good idea. If you don't have one? Get one. It's one of the best ways to give yourself some extra kitchen confidence!
Roast, covered with foil, until the internal temperature is 120°f. Then remove the foil (keep it for after the chicken is done) and increase the oven to 400°f. Continue cooking until the temperature reaches 165°f. This should take another 20-30 minutes.
Remove from the oven, tent loosely with the foil and let it rest 5-10 minutes before snipping the string and slicing.
Making The Sauce
While the chicken is cooking you'll make the sauce. The chicken is great without it, too…but Jillian literally ate the sauce straight out of the serving bowl with a spoon at the end of the meal. It's REALLY good!
WARNING- the sauce doesn't reheat well once chilled, so don't make it too far ahead. I suggest using it all or do like Jillian and eat any leftovers with a spoon lol 🙂
Ingredients:
Butter
garlic
Italian seasoning
heavy cream
Cajun seasoning
lemon zest and juice
parmesan cheese
You'll melt the butter and stir in the garlic and Italian seasoning. Once it's fragrant, add everything but the cheese and lemon juice and simmer gently until slightly thickened. Stir the cheese and lemon juice in at the end, taste and adjust seasoning. That's it!
What To Serve Along Side
Hannah Brought her version of Josh McFadden's Roasted Pepper Panzanella Salad from one of our favorite cookbooks, Six Seasons. She made a few tweaks that I thought put it over the top delicious! Make it as Josh does or follow Hannah's lead and include tomatoes and fresh basil, homemade sourdough for the croutons, and serve it on top of leaf lettuce finished with a balsamic drizzle.
SO GOOD!
I made simple blanched green beans (because this is THE time of year for tender, flavorful green beans!) and crispy smashed redskin potatoes. Harper tasted the potatoes and asked me to make them for her birthday (5 months from now), which is funny because Hannah makes potatoes pretty much the exact same way.
Some things are just better coming from grandma I guess 😉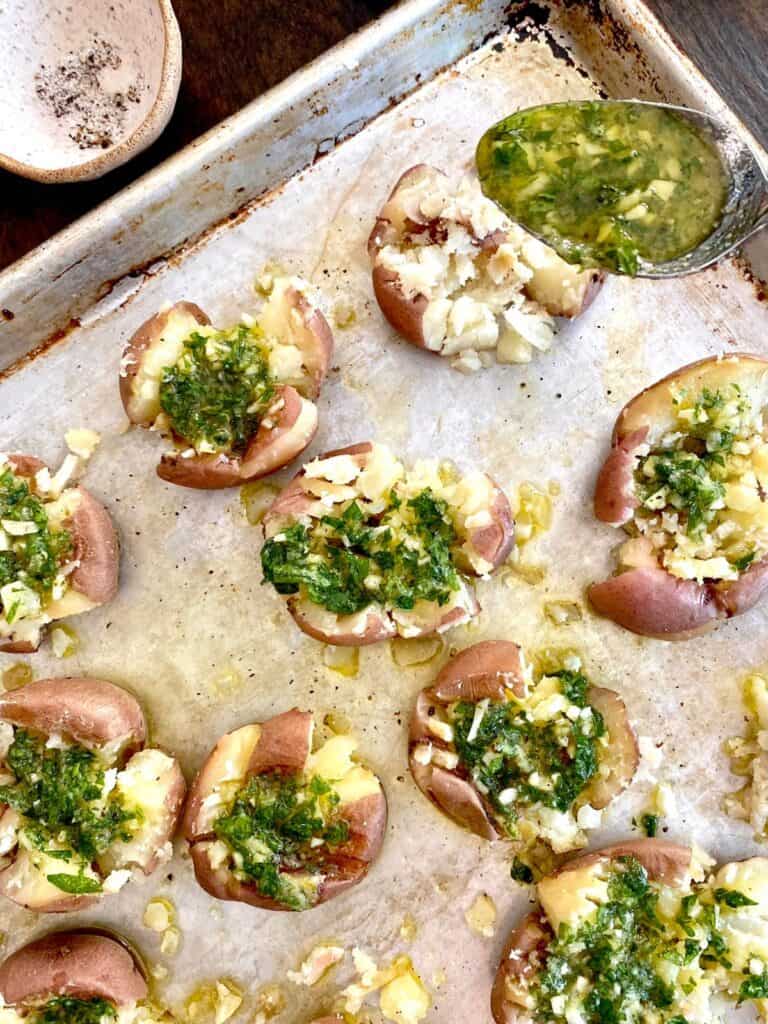 You can find the recipe for Crispy Herb Smashed Redskins here. The oven temp and cook time is flexible, so you can cook them right along side the chicken for the last hour. If they aren't golden enough when the chicken is done, crank the heat up to 475°f and let them go until they are. Your chicken needs time to rest anyway!
And Maybe Dessert
If you're like Levi- you're always hoping for dessert! Keep a batch of these Life Changing Chocolate Chip Walnut Cookies in your freezer you'll never have to go without 🙂
Gather Your People Together And Eat
This is the "holding on" part…savor these moments!
Put the phones away. Talk to each other. Look around the table and soak every bit of it in.
And linger for a while after the food is gone…the dishes can wait ❤️
Andouille Stuffed Boneless Chicken With Cajun Cream Sauce
Cook Time:
1 hour
35 minutes
Total Time:
2 hours
5 minutes
Golden and crispy outside, tender and juicy inside. Andouille stuffed boneless chicken with Cajun cream sauce is impressive and delicious!
Ingredients
1 Whole deboned chicken, or 6 bone-in chicken thighs (see notes for thigh version)
1/2 lb raw andouille sausage
1 1/2 cups fresh sourdough bread crumbs
1 small yellow onion, chopped (about 1/2 cup)
1 stalk celery, chopped
1 clove garlic, minced
1/4-1/2 cup chicken broth
2 Tablespoon of chopped fresh parsley
1 cup diced plum tomato
Olive oil
1 Tbsp butter
cajun seasoning, salt and pepper
Cajun Cream Sauce
2 Tbsp butter
2 tsp minced fresh garlic
1/2 tsp italian seasoning
1 cup heavy cream
1 Tablespoon Cajun Seasoning (to taste)
2 tsp lemon zest
2 Tbsp lemon juice
1/4 cup grated parmesan
Instructions
Prep Chicken
Lay a piece of plastic wrap, wider and several inches longer than your flattened chicken, over your workspace.
Lay chicken on top of wrap, skin side down and season well with kosher salt and cajun seasoning. Amount of seasoning will depend on your personal preference. Set aside while you make the stuffing.
Make Stuffing
Melt butter in a saute pan and add onion and celery. Cook and stir for a few minutes, until onion softens but doesn't brown. Add garlic and continue cooking and stirring just until garlic is fragrant, about 30 seconds. Stir in chicken broth, bring to a simmer and remove from heat.
Stir breadcrumbs into pan, mixing to coat evenly. Scrape mixture into a large mixing bowl and set aside to cool completely.
Once cool, stir in fresh parsley, 1/2 tsp kosher salt. Work andouille sausage in with your hands, mixing well.
Assemble Chicken & Chill
Spread stuffing in an even layer over seasoned chicken, not quite all the way to the edges. Sprinkle diced tomato over.
Bring each side of chicken up and over filling, meeting in the center. Do this so that the breast meat is at one end and the legs are at the other. Use the plastic wrap to help guide and hold everything together, wrapping the chicken tightly to enclose the stuffing completely.
Chill the chicken for at least an hour and up to overnight. This will firm it up so that it's easier to tie.
Roast
When you're ready to cook, preheat your oven to 375°f. Remove chicken from fridge and lay length of butcher twine on a flat surface. Gently unwrap chicken, laying it over the string longways and proceed to tie up chicken, sealing in stuffing as you go. See video link in post for details on tying.
Rub olive oil and more cajun seasoning (or just salt and pepper) over all sides. the amount of seasoning is up to your preferences.
Place in roasting pan drizzled with a little olive oil with seam facing up. Line the pan with parchment if desired for easier clean up. Roast, covered, until center registers 120°f, about 1 hour and 15 minutes. Time will depend on your oven and the starting temperature of your chicken so I recommend using a meat thermometer and checking after 1 hour.
Increase oven to 400°f, uncover pan and continue cooking until thermometer registers 165°f (take this temperature from the dark meat end), about 20-30 minutes longer. Remove from oven, tent loosely with foil and allow to rest 5-10 minutes before removing string and slicing.
Make Cajun Cream Sauce While Chicken Cooks
Melt 2 Tbsp butter in saucepan. Add garlic and Italian seasoning and stir 30 seconds, until garlic is fragrant.
Add heavy cream, lemon zest and cajun seasoning and simmer on low for about 10 minutes, whisking often, until sauce is slightly thickened.
Whisk in parmesan and lemon juice and simmer 1 minute more. Taste. Adjust seasoning to your preference.
Pass chicken with sauce for drizzling over and enjoy!

Notes
For chicken thighs: use 6-8 skin-on, bone-in chicken thighs. Slip fingers between the skin and flesh of each thigh to loosen. Prepare stuffing as in recipe and cool. Divide stuffing and press under skin of each thigh, topping with a few pieces of diced tomato. Pull skin over stuffing, pressing gently to enclose. Season outside (top and bottom) with a little olive oil and cajun seasoning to your preference.
Roast in a pan or on a rimmed baking sheet, covered, at 425°f for 20 minutes, uncover and roast another 25-30 minutes until skin is crispy and golden and chicken is cooked through
*chicken is safe at 165°f but I prefer thighs cooked to 175-180°f, allowing the connective tissue to break down so that they aren't "rubbery". They will still be very moist and juicy!