I am possibly more excited to share this recipe with you than anything I've previously posted- I'm not even exaggerating! Eggs goldenrod is the epitome of comfort food. Creamy and rich and warm and bready and all of that topped with salty, crispy bacon- gahhhhhhhh! Seriously….THIS is so good! Soul satisfying, even. And it's easy and cheap and you probably have everything you need to make it in your kitchen already.
What is eggs goldenrod?
Eggs goldenrod is really very simple- and sometimes simple things are the best things. You make a basic white sauce, stir in chopped hard boiled eggs, season with salt and pepper and serve over toast topped with bacon. It's that easy. The "goldenrod" part comes from the crumbled egg yolk that's sprinkled on top for a pretty garnish.
Growing up, eggs goldenrod was on the regular meal rotation at our house. It was usually served on a weekend for breakfast and occasionally a weeknight dinner (because, breakfast for dinner? Yes, please!). It was also the breakfast of choice for Christmas morning. My mom learned this recipe in her home economics class and it's one of the first things she taught me to make. I made it regularly for my kids when they were growing up and it's the meal my youngest, Jillian, still asks for every year for her birthday.
I have a borderline obsession with eggs…
I put them on all kinds of things and will eventually have an entire section here called "Put an egg on it". Chili, burgers, stuffed peppers, succotash, pizza…eggs take so many foods to the next level.
I want to give a little shout out here to my friend, Lisa, who has an egg farm where I buy my eggs, Valley City Acres . Her chickens are truly free range and she has an awesome dog, Sarge, who does a great job protecting them. The last time I was there I couldn't resist snapping a few pictures, her flock is just beautiful.
The first time I cracked a grocery store egg next to one of my own hen's eggs (way back when I had my own chickens) I was really taken by the difference. BRIGHT yellow to dark orange yolks and thick clear whites. They taste better, too, AND I notice a quality difference in anything I bake. Plus, it's good to support local farmers.
Some pictures & a fun fact from my visit to Valley City Acres
If you have access to really good, fresh eggs they're worth every penny. But I digress…
Making a white sauce is as easy as 1-2-3
Let's talk about bacon
Because, who doesn't like talking about bacon? My preference is thick, peppered bacon. This bacon is from one of my favorite butchers, Keller Meats, but you can use any bacon you like. If you use thin bacon just watch the timing in the oven so it doesn't burn (unless you're an extra-extra-crispy bacon person… we all have our thing).
I hope you try this favorite family recipe and that you love it as much as we do!
And if you're looking for other breakfast recipes, try my recipe for The Only Cinnamon Roll Recipe You Need!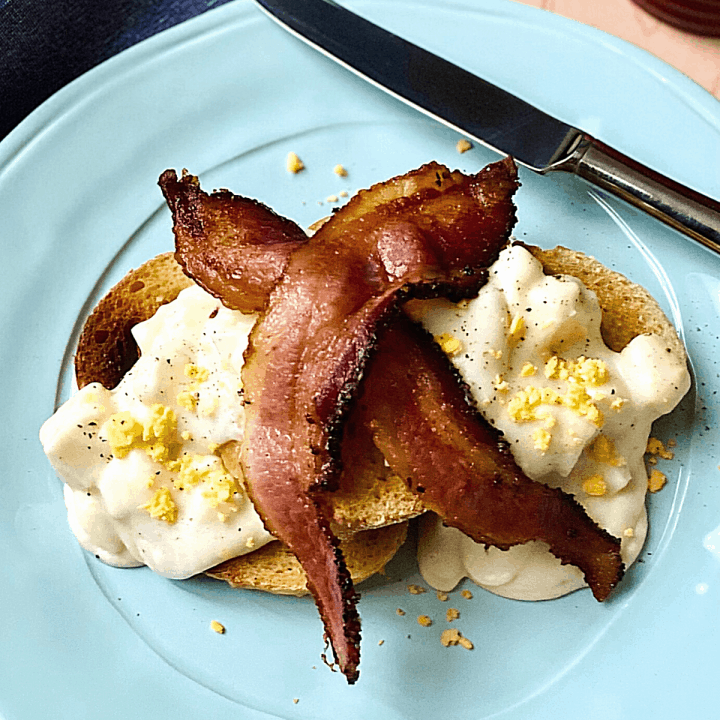 Mom's Eggs Goldenrod
Happy childhood memories are made of comforting, delicious breakfasts like this!
Ingredients
6 eggs
6 TBSP butter
6 TBSP flour
3 cups milk
Kosher salt and cracked pepper to taste
8-12  pieces thick bacon
8-12 slices bread
Instructions
Preheat oven to 375 f and lay bacon out on rimmed baking sheet
Bring water to a boil in a medium saucepan (enough to cover 6 eggs). Once boiling, carefully lower eggs into water and let boil 6 minutes. After 6 minutes, turn off heat and let sit in pot an additional 5 minutes. After 5 minutes remove eggs and place them in a bowl of ice water. Leave until cool enough to peel.
Once oven is preheated place sheet of bacon in oven and cook to your preference (check at 15 minutes). Once done remove to a plate lined with paper towels.
While bacon is cooking, in same pan you used for the eggs, melt 6 TBSP of butter over medium high heat. When butter is melted and bubbling add your flour, reduce heat to medium and stir constantly for 2 minutes (you don't want the flour to brown, but you want to cook the "flour taste" out of it). This is a roux.
After 2 minutes add your milk all at once, whisking well and making sure to incorporate all of the roux into the milk. Continue whisking/stirring, making sure to get into the corners and across the bottom of your saucepan often for 7-8 minutes, or until sauce is thick.
Season to taste with Kosher salt and cracked pepper. If using Kosher salt 1 to 1 1/2 tsp salt is good. If you're using table salt start with 1/2 tsp and adjust from there.
Peel and chop your hard boiled eggs (reserve 1 egg yolk for garnishing). Add chopped eggs to your sauce. Taste and adjust seasonings. Remove from heat and cover to keep warm.
Toast your bread.
For each serving lay two pieces of toast on a plate, overlapping slightly, top with creamed eggs and sprinkle with a little crumbled egg yolk. Lay two slices of bacon over the top.

Enjoy!
Notes
This can easily be scaled up or down depending on the number of people you're serving. Just remember for each cup of milk you'll use 2 TBSP flour, 2 TBSP butter and two eggs.(1+2+2+2)
You can easily make this the day before for a fuss free breakfast in the morning. Just reheat the sauce over low heat (stir often) while cooking your bacon and toasting your bread.
I LOVE a good, thick peppered bacon for this recipe. Use whatever bacon you like but if you use thin bacon check it earlier than 15 minutes!
As a kid my favorite bread for this was fluffy white texas toast, as an adult I think I prefer sourdough. My mom served it at her bed and breakfast for years using three slices of baguette per person.