Do you love the combination of sweet, tart, smoky and spicy? If so, then you're going to love my Chipotle Rhubarb BBQ Sauce!
I'm a sucker for anything rhubarb.
Growing up my mom grew big, lush rows of rhubarb along the back and side of our house. I can still hear my mom telling us the giant leaves were poisonous…which seemed so scandalous to me!
In the spring and summer she would make rhubarb sauce and layer it with Cool Whip in tall parfait glasses. Sometimes it was still slightly warm and the Cool Whip would get a little melty where the two met. She froze extra rhubarb sauce and it would appear in her fruit filled oatmeal squares year round. And she canned a savory rhubarb-raisin sauce called Victoria Sauce that I would slather on her pot roast in the winter. Ironically, I don't think she ever made rhubarb pie. Which is what most people think of when they hear the word rhubarb.
Rhubarb in BBQ Sauce?
Once I had my own garden, rhubarb was one of the first things I planted. Even though I don't have a big garden now, I still grow a little patch of rhubarb. It's one of the few things I can grow that the deer won't eat and I'm thinking it has to do with those poisonous leaves my mom warned me about all those years ago! A few weeks ago , as all of the green things outside started to come back to life, that little patch became the inspiration for this recipe.
The tartness of the rhubarb is a perfect counterbalance to the brown sugar and molasses. And the smoky heat of the chipotles takes it to the next level. I think this will be my go-to from now on!
How Do You Make BBQ Sauce?
Making BBQ sauce is really very simple-
Cook shallots, garlic and diced rhubarb until the shallots are soft and the rhubarb just starts to break down.
Next, add the rest of the ingredients and simmer it until the rhubarb is soft and the flavors have all melded together into a sweet-savory-sticky deliciousness.
You'll cool it slightly and give it a whirl in a blender. And that's it!
Chipotle Rhubarb BBQ Sauce is ready for you to slather on chicken or these fall off the bone ribs …or whatever your little heart desires 🙂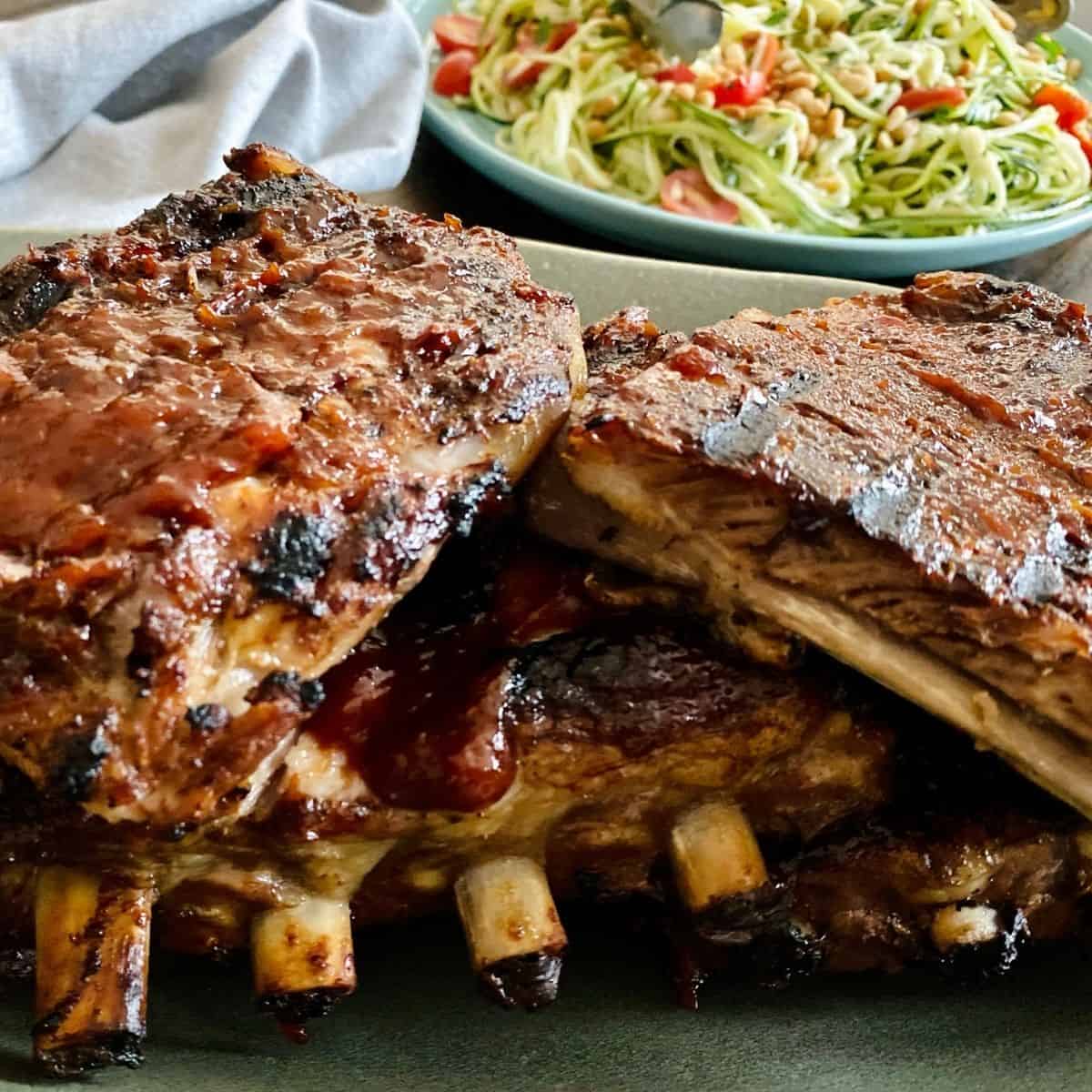 I hope you try this BBQ Sauce and that it turns you into a rhubarb lover, too! If you do, I'd love to see how you use it…let me know in the comments or post a picture and tag me on fb or Instagram @breathingandcooking 🙂
Chipotle-Rhubarb BBQ Sauce
This sweet-smoky-tart-spicy BBQ sauce is great on ribs, chicken and so much more!
Ingredients
1 Tbsp avocado or other mild tasting oil
1/2 cup diced shallot
1 clove garlic, minced
1 cup diced rhubarb
1/2 cup brown sugar
1/4 cup molasses
2 canned chipotle chillies
1 1/2 Tbsp adobo sauce (from canned chipotles)
2/3 cup cider vinegar
1 cup ketchup
1 tsp soy sauce
1/4 tsp coriander
Instructions
Heat oil in saucepan and add diced shallot, stirring and cooking on medium-low until softened but not brown. About 3-4 minutes. Add minced garlic and diced rhubarb and continue cooking and stirring for 4-5 more minutes.
Add remaining ingredients and stir well. Bring to a simmer, stirring occasionally, and continue cooking until rhubarb is broken down and sauce is thickened, about 10-15 minutes.
Cool sauce slightly and use a blender or immersion blender to puree until smooth.
Notes
BBQ sauce will keep in refrigerator for 7-10 days