If you're craving something fresh and bright and full of summertime flavors you're going to love this julienned zucchini and tomato salad!
Why are you going to love this recipe?
It's fast (ready in 20 minutes)
It's flexible (you can easily swap ingredients for what you have on hand)
There's no cooking (unless you toast the nuts) so your kitchen stays cool
It's healthy AND delicious
It can be a side dish or a meatless main dish
Sometimes I don't know what I want to make so I google ingredients I have on hand and see what pops up. Do you ever do that? Well, that's how I found this recipe. I made it three times the week I found it, MOSTLY because I loved it. But also because it was the middle of summer when the tomatoes and zucchini seem to multiply like Gremlins. The zucchini especially. If you've ever grown it you know what I mean.
It may have also had something to do with the fact that I'd just recently acquired a julienne peeler and it's always fun to play with new kitchen tools!
This Is A Very Flexible Recipe
I googled the recipe again while writing this post, because I like to give credit to the original when I can, and was blown away by all of the variations out there! Over the years I've tweaked my version just a little, swapping white balsamic for the red balsamic, upping the herbs and adding goat cheese for a little creaminess. I'd encourage you to experiment and make this your own- here are some ideas to get your wheels turning:
Cheese (or not)- Use feta in place of goat cheese or nix the cheese completely for a vegan version
Color- Incorporate yellow squash and different color tomatoes for even more color
Herbs- Change up the herbs- dill, oregano or mint would all be wonderful
Nuts- sliced almonds would be great here, too
Add something new- thin sliced pickled onion, roasted peppers, crispy bacon, olives
Vinegar- regular balsamic, rice vinegar, cider vinegar, champagne vinegar (way too many options to list)
Thin my favorite basil pesto with a Tbsp or so of water and use in place of the oil, vinegar and herbs
Like I said, so flexible- have fun with it!
Start By Marinating the Tomatoes
Slice your tomatoes in half (or quarters if they're larger) and place in a bowl. Combine them with oil, vinegar, fresh herbs, garlic and a pinch of salt. Taste and adjust to your liking. Set aside for 10 minutes so the flavors meld while you prep your zucchini noodles.
How to make zucchini noodles
When I first found this recipe zucchini noodles weren't something commonly found in the produce department. Today you can find everything from zucchini to kohlrabi to beets and butternut squash already spiralized and ready to go- which helps make your meal prep easy and fast.
And that's awesome! But, being a process person, I really enjoy making them myself, it's part of the fun for me. If you want to make them yourself there are several ways to do it:
Choose Your Tool (or buy them already made)
The first tool I used to make zucchini noodles was a julienne and vegetable peeler . It was inexpensive and did a great job. Sometimes the noodles stuck together and I'd need to pull them apart but that wasn't a big deal.
I asked for the spiralizing attachment for my Kitchen-aid mixer a few Christmases ago and have used it exactly twice. I think putting the vegetables on correctly and cleaning it after is more trouble than it's worth for the outcome. Plus it was expensive (anyone want to buy mine LOL??). You might feel differently (I hear it's great for peeling apples and potatoes!)
A few weeks ago I ordered this mandoline for making vegetable gratins and super thin veggie chips. It came with several julienne blades so I tried it for this salad and I LOVED it!!! I was able to get nice, thin, strips and none of them stuck together! A word of caution though- YOU'RE NEVER TOO COOL TO USE THE FINGER GUARD (trust me- ouch).
Make Your Noodles
To make the noodles you'll wash and dry your zucchini. Next, cut off the ends (just the very tips). Now, use the tool of your choice to create nice, long strips. Stop when you get to the spongy part in the center. Rotate your zucchini to the opposite side and continue slicing into strips, again stopping when you get to the spongy part. Repeat with the two remaining sides.
Discard (or eat separately) the middle part that's left. You don't want to use it in your salad because it's texture is too soft and won't hold up, but it tastes fine! I like to blot my noodles at this point either with a paper towel or a clean cloth towel.
You can also use prepared zucchini noodles for the grocery store. I've found they tend to be wetter than when you make your own (I think because they use the center of the zucchini, too). So, if you're using them, drain in a colander for a few minutes while you prepare the rest of the salad and don't skip the blotting step.
Now, Put It All Together
Add your zucchini noodles and cheese to the marinated tomatoes and toss gently. Taste. Add a little more oil or vinegar, maybe a pinch more salt or additional fresh herbs if you like. Toss and taste again. Top with toasted pine nuts just before serving so they keep their crunch.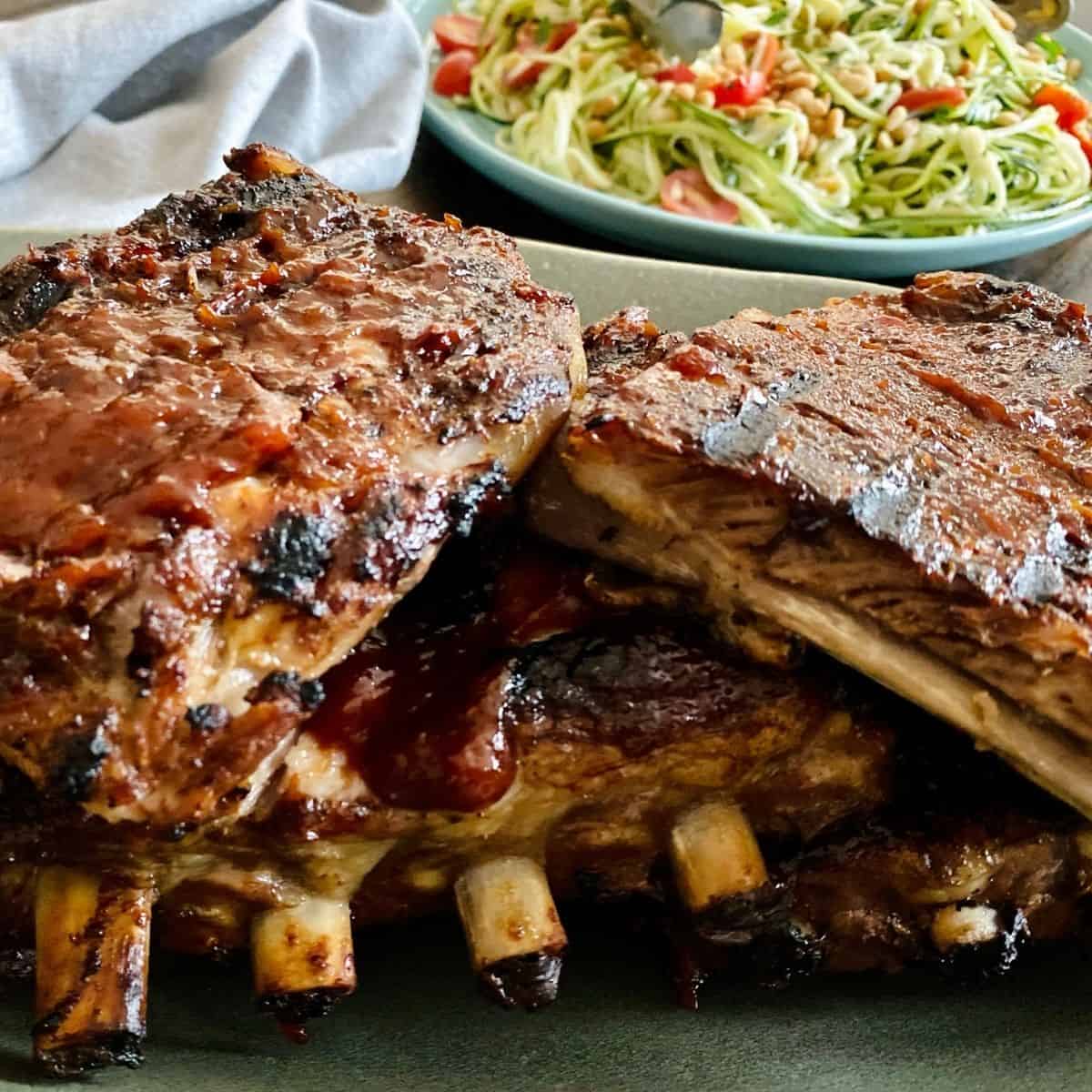 I love this salad with my fall off the bone bbq ribs and chipotle rhubarb bbq sauce. The clean, fresh flavors and cool, crisp texture is the perfect compliment to the sticky, smoky-sweet sauce!
I'd love to hear how you make this salad your own! What did you add? What did you serve it with? Let me know in the comments or tag me on fb or instagram @breathingandcooking with your version!
Julienned Zucchini-Tomato Salad
Ingredients
2 small to medium zucchini
1 cup grape or cherry tomatoes, halved
1/4 cup pine nuts (toasting is optional, see notes)
2 oz crumbled goat cheese
1 clove garlic, minced or grated
2 Tbsp chopped, fresh parsley
1/4 cup chopped, fresh basil
1 1/2 Tbsp white balsamic vinegar
1 1/2 Tbsp extra virgin olive oil
kosher salt
Instructions
The measurements in this recipe are intended as a guideline and are very flexible. Taste as you go and adjust as needed to suit your taste!
In a bowl that's large enough to hold all of your ingredients combine halved tomatoes, minced garlic, chopped herbs, balsamic vinegar, olive oil and a pinch of kosher salt. Toss to combine, taste and adjust if needed. Set aside to let flavors blend while you prep the zucchini.
Use a julienne tool or the medium julienne blade on a mandoline to cut zucchini into long, thin strips. Stop cutting when you get to the spongy, seedy center and discard that part (using it will make your salad soggy). Blot your cut zucchini with a paper towel to remove any excess liquid.
Add zucchini and cheese to tomato mixture in bowl and toss gently to combine.
Before serving add pine nuts. Toss, taste again and adjust with more vinegar, oil and salt if needed.
Notes
to toast pine nuts, spread them on a baking sheet and place in a preheated 350° f oven for about 5 minutes, shaking the pan/stirring them a couple of times while cooking to check their progress. Ovens vary so pay attention to their color because they burn easily! When they're lightly golden and fragrant they're done
small to medium zucchini will provide the best texture for this salad.
if buying zucchini noodles, lay them in a colander for 15 minutes and then blot with paper towel before adding to salad
red balsamic vinegar is great here, too, but keep in mind that it will color your zucchini and cheese
Feta can be substituted for the goat cheese